VANCOUVER, B.C. – COLLECTIVE METALS INC. (CSE: COMT | OTC: CLLMF | FSE: TO1) (the "Company" or "Collective") is pleased to announce that it has received assay results from its initial Rock Sampling Program (the "Program") that was completed as part of its due diligence evaluation of the Princeton Copper Project (the "Project") in Spring of 2023. The Program emphasized locating, examining, and, in most cases, sampling exposures, roadcuts, caved trenches or outcrops associated with previously identified copper mineral occurrences. Most of the occurrences that were examined are located adjacent to logging roads and were accessed by truck. Several traverses were undertaken to access historic copper mineral showings at Lamont Ridge – Wilmac and Trojan occurrences.
Highlights
Three samples that were collected from outcrop samples returned copper grades that range from 0.3% to 0.5%. The highest-grade sample was taken from the Trojan copper showing that occurs within the Trojan – Condor Corridor (Figures 1 to 3).
Nineteen samples collected during the 2023 program contain anomalous Copper with assay results that returned more than 100 ppm (Figures 2 and 3).
Field observations and geochemical analysis of the 2023 results confirm presence of altered diorites that are known to host copper mineralization in the Copper Mountain Mine.
The Company's 2023 field exploration program is progressing well with results of reconnaissance soil sampling program expected in the coming weeks.
Christopher Huggins, Chief Executive Officer of Collective, commented, "One of the difficulties hindering evaluation of copper mineralization on the Property is the lack of bedrock outcrops. Despite this, assay results from the minimal rock outcrops that are available in the Property are comparable to head grades of copper mines in British Columbia. We are very happy with these results that provide valuable insights into the geology of the Property."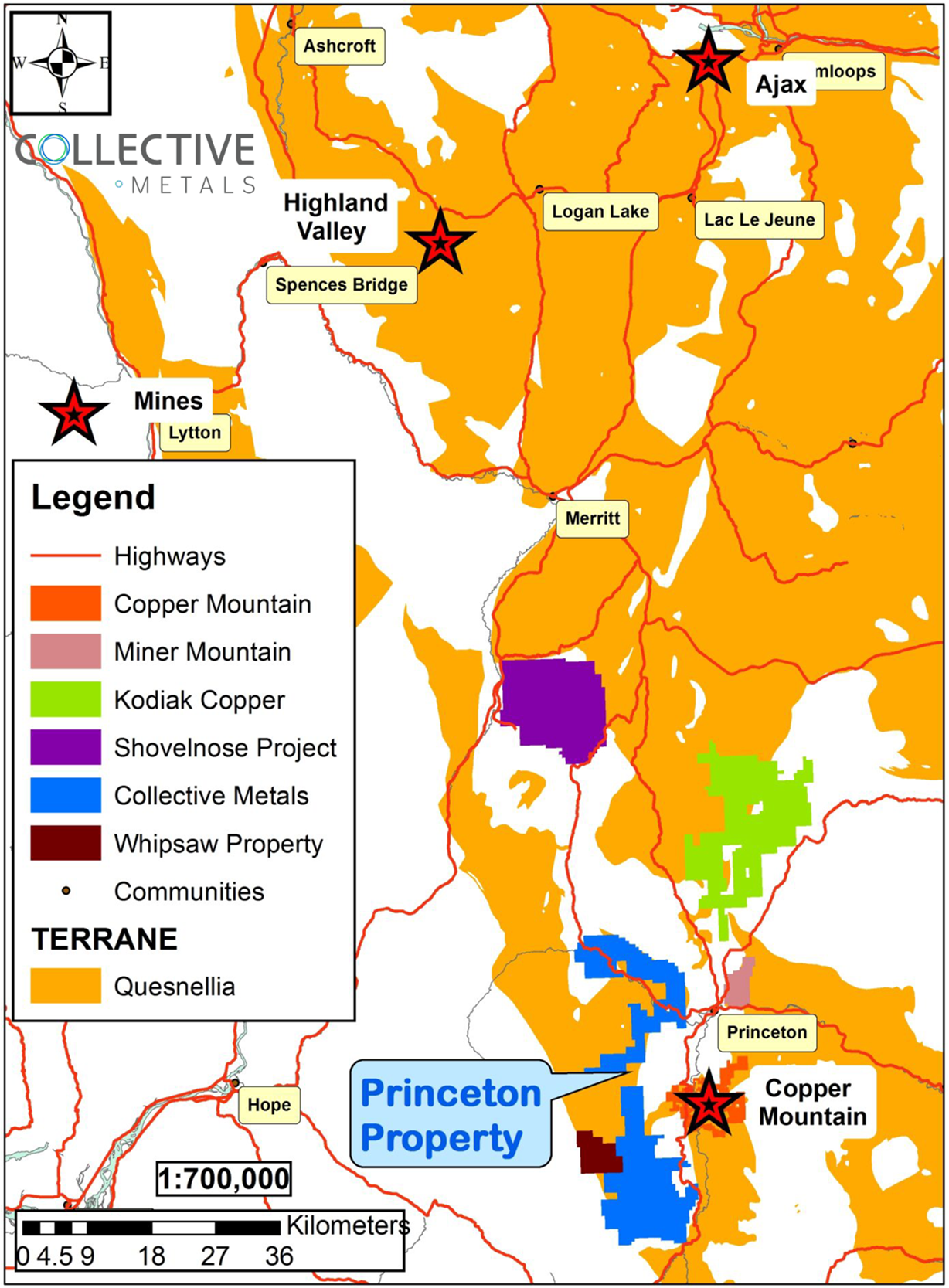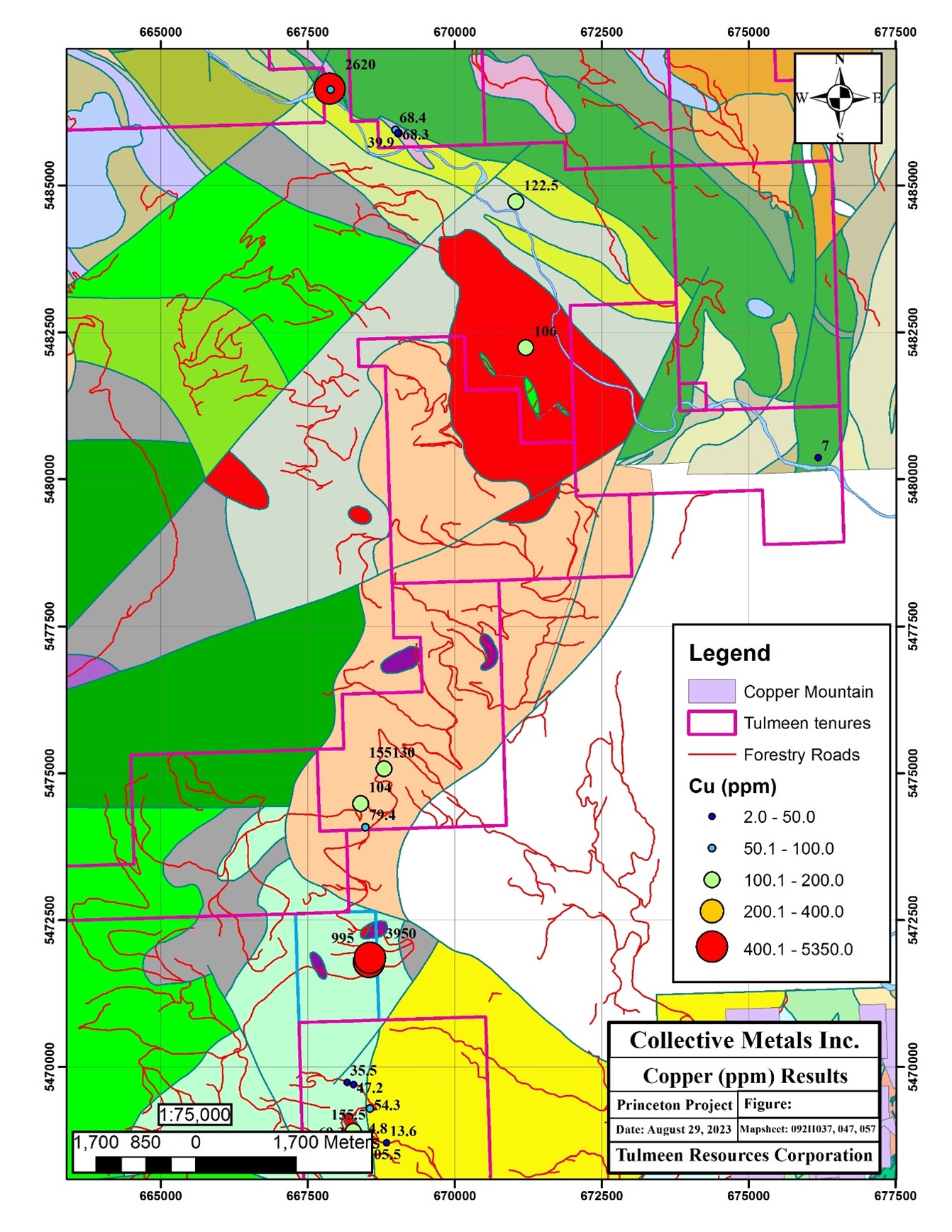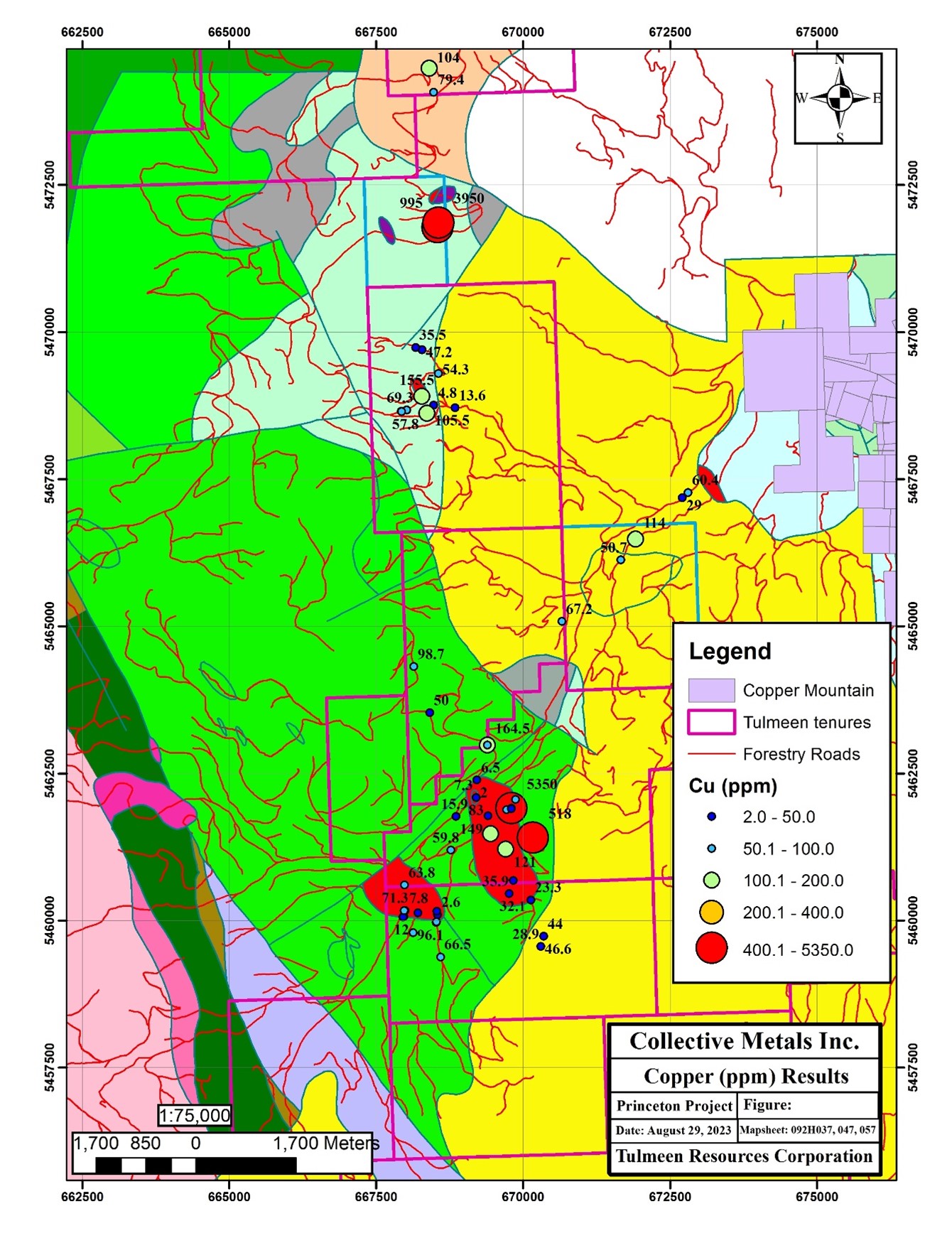 Princeton Copper Project
The Company's flagship Project is easily accessible by road and is located immediately west of Highway 3 south of Princeton, BC, in a well-established mining district with excellent infrastructure, a local workforce and support services. The Project hosts potential for identification of one (or more) copper gold alkalic porphyry occurrences similar in age and deposit type to the Copper Mountain Mine.  The Project is also approximately 10 km west of Hudbay Minerals Inc's currently producing Copper Mountain Mine, which hosts a Proven and Probable Mineral Reserve of 702 Mt of 0.24% Copper1.
Qualified Person
This news release has been reviewed and approved by Rick Walker, P. Geo., who is acting as the Company's Qualified Person for the Princeton Property project, in accordance with regulations under NI 43-101.
The information disclosed is not necessarily indicative of mineralization on the Princeton Project.
References
1 – Copper Mountain Mine Life of Mine Plan and 65Kt/D Expansion Study Update NI 43-101 Report, Richard Klue, VP Technical Services, CMMC; Patrick Redmond, VP Exploration and Geoscience, CMMC; Luis Alberto Chang, VP Mining, CMMC; Berge Simonian, Director of Metallurgy, CMMC; Amaru Humala, Director of Mechanical Engineering, CMMC Scott Weston, VP Business Development and Strategy, Ausenco; August 1, 2022.
About Collective Metals:
Collective Metals Inc. (CSE: COMT | OTC: CLLMF | FSE: TO1) is a resource exploration company specializing in precious metals exploration in North America. The Company's flagship property is the Princeton Project, located in south-central British Columbia, Canada, approximately 10 km west of the currently producing Copper Mountain Mine. The Princeton Project consists of 29 mineral tenures totaling approximately 28,560 ha (70,570 acres) in a well-documented and prolific copper-gold porphyry belt and is easily accessible by road, located immediately west of Highway 3.
The Company's Landings Lake Lithium Project is located in northwestern Ontario where numerous lithium deposits have been delineated to host significant reserves of Li2O. The Landings Lake Lithium Project is located 53 km east of Ear Falls, Ontario and covers 3,146 hectares. The Whitemud Project, with several identified pegmatite outcrops, neighbours the Landings Lake Project and consists of 381 single cell mining claims totaling 7,775 hectares.
ON BEHALF OF COLLECTIVE METALS INC.
Christopher Huggins
Chief Executive Officer
T: 604-968-4844
E: [email protected]
Forward Looking Information
Certain statements in this news release are forward-looking statements, including with respect to future plans, and other matters. Forward-looking statements consist of statements that are not purely historical, including any statements regarding beliefs, plans, expectations or intentions regarding the future. Such information can generally be identified by the use of forwarding-looking wording such as "may", "expect", "estimate", "anticipate", "intend", "believe" and "continue" or the negative thereof or similar variations. The reader is cautioned that assumptions used in the preparation of any forward-looking information may prove to be incorrect. Events or circumstances may cause actual results to differ materially from those predicted, as a result of numerous known and unknown risks, uncertainties, and other factors, many of which are beyond the control of the Company, including but not limited to, business, economic and capital market conditions, the ability to manage operating expenses, and dependence on key personnel. Forward looking statements in this news release include, but are not limited to, statements respecting: mineralization potential of the Project based on the results of the Program. Such statements and information are based on numerous assumptions regarding present and future business strategies and the environment in which the Company will operate in the future, anticipated costs, and the ability to achieve goals. Factors that could cause the actual results to differ materially from those in forward-looking statements include, the continued availability of capital and financing, litigation, failure of counterparties to perform their contractual obligations, loss of key employees and consultants, and general economic, market or business conditions. Forward-looking statements contained in this news release are expressly qualified by this cautionary statement. The reader is cautioned not to place undue reliance on any forward-looking information.
The forward-looking statements contained in this news release are made as of the date of this news release. Except as required by law, the Company disclaims any intention and assumes no obligation to update or revise any forward-looking statements, whether as a result of new information, future events or otherwise.
The Canadian Securities Exchange has not reviewed this press release and does not accept responsibility for the adequacy or accuracy of this news release.